A post from Oceanic Pro League for League of Legends states that Riot Games will be discontinuing Rift Rivals Tournament. This will effect those in the play-in's, which consists of Southeast Asia, Japan, Oceania, Brazil, Latin America, Vietnam, CIS and Turkey. Yet, Rift Rivals will still continue as per normal in Europe, North America, China, South Korea, Hong Kong , Macau and Taiwan.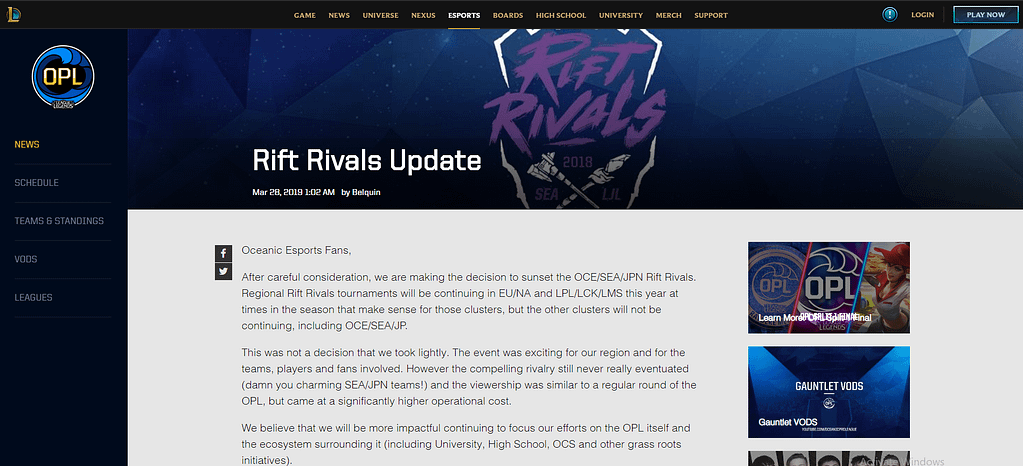 The main reason behind this discontinuation of events is in direct relationship to the amount of costs incurred for these events and the amount of viewership attained. Official Post from Oceanic Pro League stated:
"This was not a decision that we took lightly. The event was exciting for our region and for the teams, players and fans involved. However the compelling rivalry still never really eventuated (damn you charming SEA/JPN teams!) and the viewership was similar to a regular round of the OPL, but came at a significantly higher operational cost."
To put it simply, the cost of hosting one of these was very similar to the events which hold professional teams which have a much higher viewership, therefore Riot Games seems to have dropped the Rift Rivals in an effort to minimize costs which wasn't being used wisely.