Rocket League Community backlashes at Epic Games acquisition of Psyonix.
For those who have not heard the news yet, Epic Games Announced that they acquired Psyonix, creator of Rocket League. With that,  Psyonix stated on their website that Rocket League will eventually be included in the Epic Games store. Psyonix also added to their statement that this acquisition will help them increase their potential reach and resources. Obviously referring to the number of new players that they might attract with Epic Games' hit game Fortnite.
However, it seems that the Rocket League community didn't like this news. Some players reported having stopped playing the game and other resorted to making fun of Psyonix and their new partners Epic Games, in a sign of disrespect to changing the platform to one that is more kid-friendly and micro-transaction heavy. Here are some examples of these: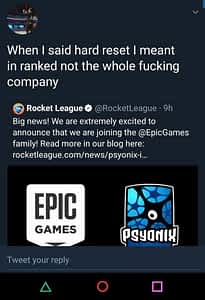 Gameplay will not be affected by this change, neither should it affect those that have purchased the game through steam, for now. It is expected that the official acquisition will close around June 2019, however, no additional details have been released yet. Stay followed on our website for future updates on this matter.